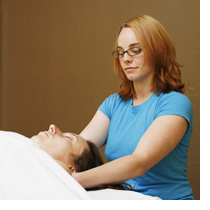 •IMPORTANT – download, print and fill out this Confidential Client Intake Form before you arrive for your first visit at New Seattle Massage.  It will save a lot of time if you have it ready when you arrive – we MUST have this form on file before your first massage, so if you have it ready when you arrive you will not need to sit in our reception area filling out paperwork before we can take you in.
The practitioner will show you around our facilities and to your massage room. (If you are taking a steam and sauna before the treatment, your practitioner will come to the resting room to find you at the time of your appointment.)
• Your practitioner will discuss with you any particular areas or problems you would like to have worked on in your massage. Some simple screening questions about your health will be asked to help us give you a safe and comfortable massage. If you have old or current >injuries, or any conditions your practitioner should be careful with (or perhaps not massage at all), be sure to let your practitioner know.
• Next, the practitioner will show you where to hang your clothes, which direction to lie on the table, and give you a sheet to cover up with. Your practitioner will leave the room and give you time to undress. Many people do not wear any clothing during the treatment, but this is up to the individual. You will be covered with a sheet during the massage.
• As you get settled on the table, your practitioner will make sure you are warm enough and comfortable with pillows or any necessary support. There are heat lamps to warm you.
• If you wear contacts, it is fine to leave them in.
• During your massage, let your practitioner know if you are uncomfortable in any way; if the massage pressure in too hard, or not hard enough, if it tickles, or if something just doesn't feel right. We want you to be at ease, and we depend on your feedback to give the best massage possible.
• At the end of your massage, your practitioner will leave the room and let you rest quietly before you dress to leave. If you would like to use the steam/sauna or take a shower, lockers and towels are provided.
Take a deep breath, and perhaps a drink of water, as you re-enter the world outside. Please note: If you have a physician's prescription for massage and/or expect to be reimbursed by any form of insurance, now or in the future, you must discuss this fully with you practitioner before your treatment so that proper records may be kept.